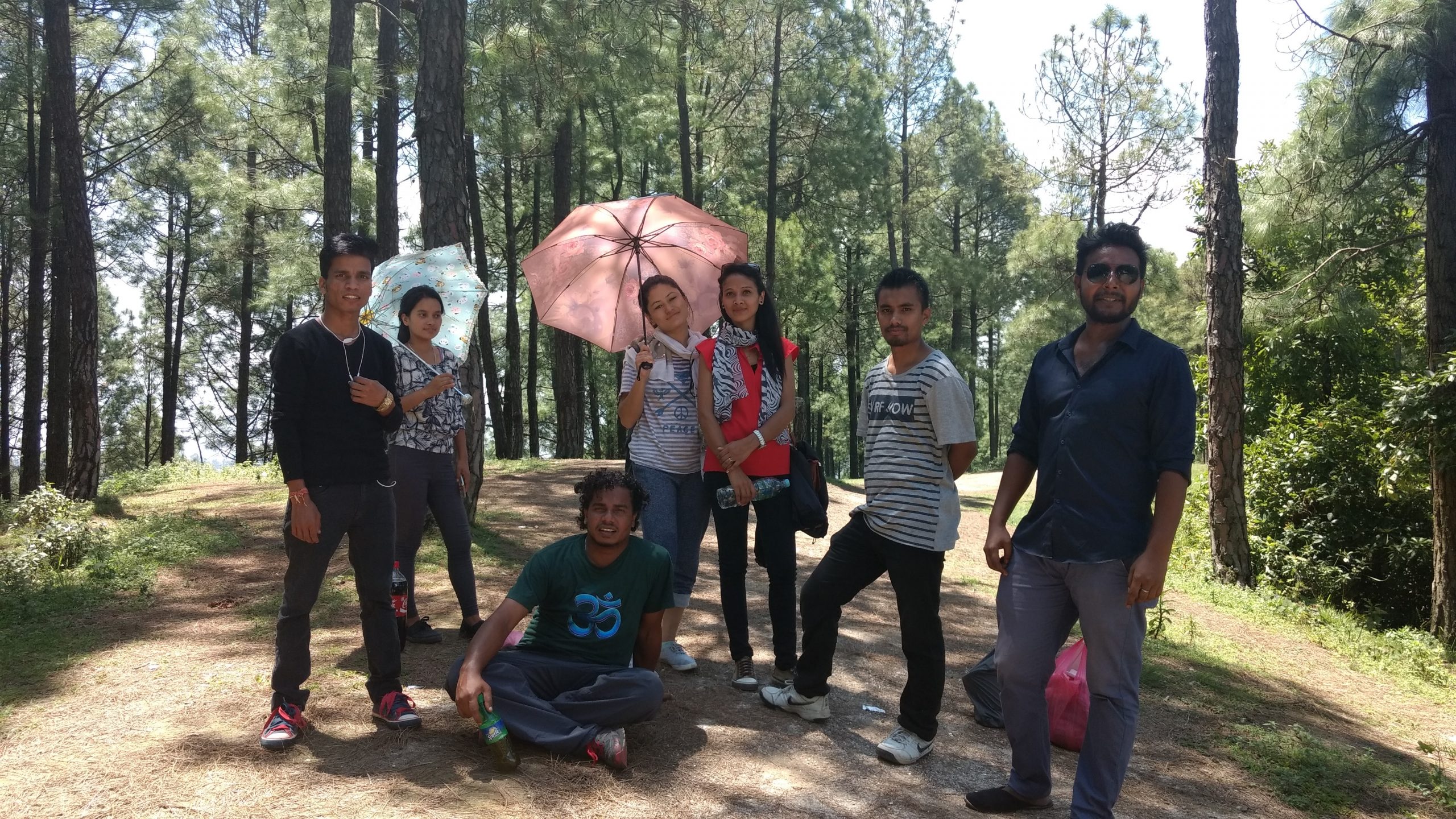 Alumni Hike to Shivapuri
On 27th August 2016, eight of the Pestalozzi alumni went for a hike from Narayanthan to Kapan.  We started at 8am. The bus ride from Satdobato to Chakrapath was interesting with a bus full of too many people. We all sat at a small café to have tea and discuss the route plan for the hike. We decided to start from Narayanthan and hike up the Shivapuri hills and hike down to Kapan Monastery.
In a fun and active way on this small day hike from Kathmandu. We took local transport to Rudreshwor chok, Budhanilkantha. We moved eastern side from the Rudreshwor Chok. After crossing Small rivulets at the bottom of Shivapuri hill, gathered to have light breakfast.
We had our breakfast at the base of Shivapuri and started walking uphill. The weather was sunny with scattered clouds. The boys started walking ahead followed by the girls. We reached the top where we passed by a Shiva temple. We halted for some time to greet lord Shiva. We continued our hike for 4 hours and reached a small hut where we could find some energy boosters. We were all sweating with the scorching sun on our head and needed water immediately. We sat down for half an hour to refuel us for another couple of hours walk. We had local cucumber with spicy red chilly. It's one the best thing you can find in the Nepalese hills. We all loved the fresh green fiber.
The group Spent whole day together climbing up on the hill and sliding down in the jungle. We gathered in the middle of jungle and choose one tree and hug the stem of tree to release all the negative energy. It was the most refreshing moment we had during hike.
We started walking downhill. We were having a good time with lots of humorous stories and melodious singing from Dev Balayer. Unfortunately we lost Dev as he met with an accident last October. The nature was beautiful with coniferous trees all around. We hiked down for 3 hours and reached the bus station of Kapan. We were feeling so hot that we all prayed for showers. It was raining in a distance and we saw a pair of rainbow. In no time the rain started hitting us. We escaped the heavy part but walked through the drizzle.
Finish with a stop at a local Bazaar in Kapan before heading back to Kathmandu. After our hike, hop back to the bus and begin half an hour's journey back to home. We were refreshed after a long time and was a good Alumni hike.