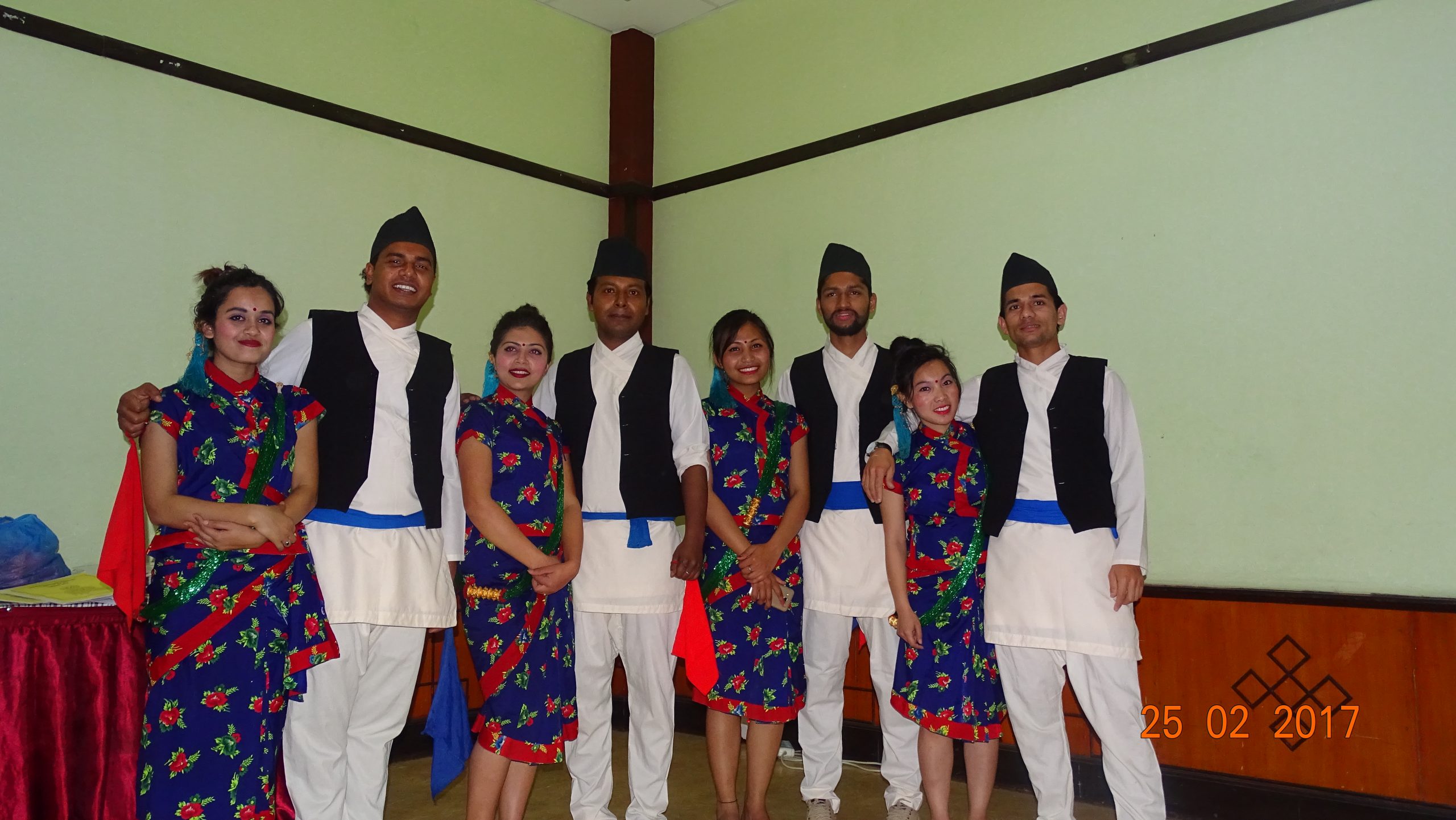 PestalozziWorld Asian Reunion
Day 1
On February 23, 2017, Nepal Pestalozzi Foundation cordially welcomed alumni and guests from Thailand and Zambia to Nepal. In the evening, we arranged a dinner at a Nepali restaurant. Our Chairperson – Bhaba Bahadur Thami formally welcomed the alumni and guests to Nepal. During the dinner time, we all introduced each other and enjoyed the delicious Nepali cuisines.
 Day 2
On the early morning of 24th Feb, we the alumni of PestalozziWorld and guests, headed for Pokhara via reserved bus. We had pack breakfast on the way. After 4 hours of travelling with dancing, singing and fun activities, we had launch at Hotel Riverside.
Finally at 3:00 pm, we reached Hotel Mount Kailash in Pokhara.  In the evening we had meetings. NPF Executive committee and Advisory Board with Sir Richard and Joanna Nair, IAC Committee Members  meeting followed by Meeting with PCVS alumni.
 Day 3
On 25th February, we had a formal program. It was the most productive day and a good learning opportunity for evryone. It was started with the welcome song by PCEC Students. We got an overview about PestalozziWorld and how it is being run by the alumni.
Mr. Bhaba Bahadur Thami, Chairperson of Nepal Pestalozzi Foundation welcomed all the guests, delegates, PW Staffs and alumni. He mentioned that reunion is a medium to reconnect and revive the Pestalozzi spirit to empower alumni which helps in completing the circle of success.
Sir Richard had given an overview about PestalozziWorld and how it is running. He mentioned PW is managed by four people only. They are Mr. Phuntsok Tashi, Joanna Nair, Gemini Patel and Tanya Mowbray. He was very happy about the fact that the new generations are taking over Pestalozzi guidelines. He further elaborated the concept of 3H as Hard Work, Honesty and Harmony in addition to Head, Heart and Hands.
We had presentations from Zambian representative, Thai Pestalozzi Foundation, Nepal Pestalozzi Foundation, Pestalozzi Children's Education Centre and PCVS. We came to know, how the foundations are running around the world under PestalozziWorld.
We were introduced to the new term Edulution by Charles Mtonga. He demonstrated how they are using modern technology to learn mathematics on tablets, which can be downloaded from internet and can work offline.
We had presentation from Zambian representative, Grace Mwenya. She stated the selection procedure and Foundation House Education in Kasisi. Foundation House Education is ranked as one of the top 10 schools in the area.
Jantrawan Chongnoncee started the presentation with message from the Chairperson of TPF. She had mentioned about the fund raising activities, students update, autumn camp and financial updates. Marut Montree and Warayuth Ruamchuny talked about all the activities run by the foundation and they also introduced their alumni.
Mrs Ambika Khadka,Ram Bandhu pokharel and Bhagirathi Kathayat presented on behalf of Nepal Pestalozzi Foundation. We had major six events during last year. The first one was the pre-Dashain gathering with the students from Dhapasi School and alumni. We also went for a day hiking to Shivapuri and came back via Kapan. We also celebrated the Pestalozzi Day on 12th January. We also had a 3 days long workshop on Organizational Strengthening and team building. We also had a local reunion in Doti with all of the alumni living around the area.
We had group discussions on how alumni can operate there on business. Lots of new ideas came up.
At the end of the formal program was sum up with awards, presentations and exchange of souvenirs.
Token of appreciation presented by Nepal Pestalozzi Foundation for their immense contribution work in Nepal and their ongoing support for the cause:
Ram Babu Subedi
K P Devkota
Jana Thapa
Major Mani Prasad Rai
Aneeta Malla
The Thai foundation made a general donation of 50000 Indian currency to miss Gayatri Singh for the PCVS, Dehradun
Peeraya and colleagues donated some stationary to the

Zambian village
Asian village and Nepali foundation.

The Asian Alumnus of the Year award was presented to Peeraya Utsajit for her extra ordinary hard work and dedication.
After the dinner we had Cultural Night. It was a great platform to exchange the cultures of Asia and Africa. PCEC children and Pestalozzi alumni performed well.
 Day 4
On 26th February, early in the morning few people went to Sarangkot to view the Annapurna sunrise. After having breakfast, only interested alumni, guests and delegates went trekking to the Peace Pagoda (for alumni not involved in meetings). Where as small group went to visit Ratna Primary School along with PestalozziWorld Trustees, Sir Richard and Lady Diana Butler. We all gathered to SOS School, Chhorepatan and had delicious lunch.
We headed towards Pestalozzi Children Education Centre (PCEC) for inauguration ceremony. PCEC was inaugurated by Sir Richard Butler and Mr. Bhaba Bahadur Thami.
In the evening, all of us went for dinner Hosted by Sir Richard at Boomerang Resort. The restaurant also presented cultural events like dancing organized by the Hotel. People really enjoyed watching Nepali cultural songs and dances. After dinner we lighted up the wishing lamp and released in the sky.  The main intention was to send our love and best wishes to all the scholars and alumni scattered all over the world.
 Day 5
On 27th February, all the alumni, delegates, trustees and guests headed back to Kathmandu via bus or flight. We reached safely in Kathmandu at 5:00 pm.